Release 0.7.0.0 Ac Tu Al
30 Jan 2020
Release 0.7.0.0 is available now for $3-tier patrons from itch.io.
Release 0.7 includes the following changes:
Draw up to eight sprites on each tile.
Mining straight into the earth.
Context-sensitive build and mine tools.
Fix messages being hidden by Dwerg information panel.
Less flickery water rendering.
Improved render performance, 4x speed increase with a Parallel.For.
Fix Dwergs getting in the way of jobs by having the builder ask them to move.
Bigger buttons.
Zoom in and out buttons
Viewing a single layer is now a view-mode and all tools work in either single or depth modes.
Stairs tool will now show what types of stairs will be built (up, down or up and down.)
Cursor Information Panel improved (Work in Progress.)
Tweaks to the tutorial; more chat/hints from the merchant between UI explanations.
I was disappointed to have my release pipeline fail on me yesterday. From my brief googling I believe the issue is that there are limits on the build agents, possibly just the size of the temporary directory as the failure occurred when extracting NuGet packages.
I temporarily disabled my tests and left my flat in Edinburgh with the build still in progress. I got on a train to Dundee for InGAME Insights #1: AI for Writers, opened my laptop and found that the Windows and Mac builds completed successfully. Hurrah! Next I merged the release branch into the cloud branch to have AWS update the service… and ten minutes later version 0.7 of the service is up and running. A quick test from my Mac over my phone's personal hotspot reveals a bug; the Mac can't get the user's location… not sure if that's because I'm on a train, something for the backlog. Luckily I added a "Continue Cloud Game" feature that allows me to connect to the last cloud game and hey Dwerg Saga on a train over a hotspot!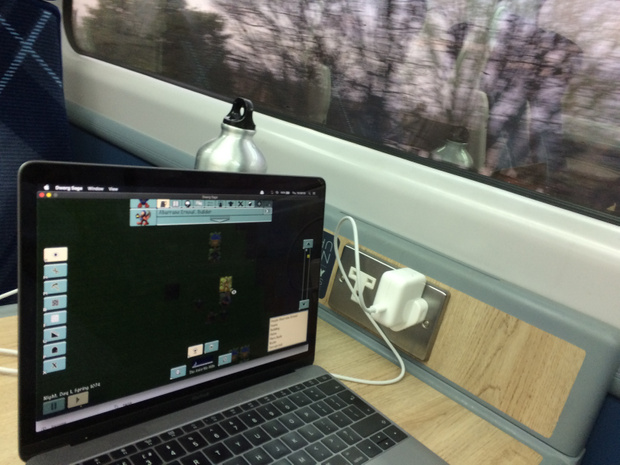 - Jock
---
Enter your email to receive a summary of new features whenever a new release of Dwerg Saga comes out. Between 1 and 3 months.
This website uses cookies to anonymously track traffic.
Privacy Policy